In addition to the preservation and extension of what we opened in 2007, the Health and Research Center, we have set new goals and tasks. Probably the most complex, time-consuming and very expensive of our projects is the previous mentioned project "freedom". The goal is to release small groups of elephants back into the wilderness. Detailed information will be provided later.
After nearly 30 years of civil war in Sri Lanka and the fact of difficult conditions and circumstances also in cooperating with the authorities and national departements the last four years, we are particularly proud of being able to reach our set goals and tasks in the elephant orphanage the past ten years by continuously improving adjustments and approvals of the government of Sri Lanka.
In the first place of the program is to raise the standard of the Health and Research Center to a modern and efficient level which will be interesting for biologists, vets and researchers from all over the world. With a more public interest the funding of this health center could be covered for the future.
To arouse this interest, we will organize and provide additional veterinary support from Germany by veterinary students and unbound vets to Pinnawela.
Interested parties are welcome to contact us.
For all these tasks it is necessary to fly technical teams and medical staff on our behalf to Pinnawela. To finance these high costs, we need your donations.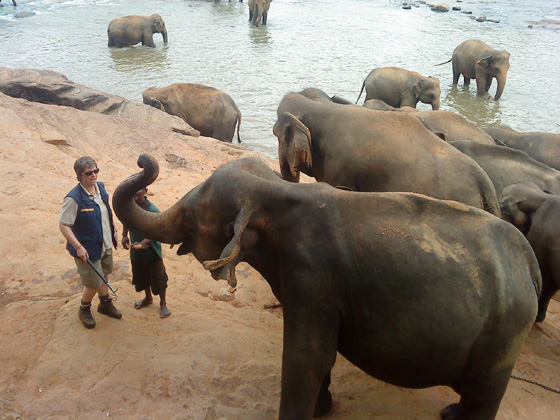 We are always open for your enthusiastic support, either through monetary donations or through donations in kind (e.g. by any company as medical and/or technical demand etc.). In case of this donations, we may ask for prior consulting with us.